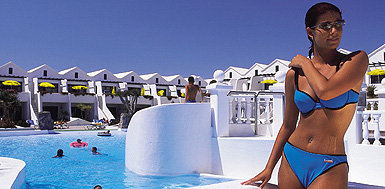 Ibiza
Ibiza - known for its trendy clubs, all-night parties, cool hippy bars and family friendly beaches. The island is also known as the 'White Isle' - a tourism slogan first introduced back in the quieter 1950's, nowadays the island is surprisingly sophisticated and a hedonistic paradise.
Wander off Ibiza's heavily beaten track and you'll be surprised at how different Ibiza can be. You'll find a wealth of history and traditions set against a natural backdrop of lush countryside, quaint villages, calm seas and dazzling white beaches.
Ibiza Package Holidays: Ibiza is the perfect summer holiday destination, located just off the eastern coast of Spain. Ibiza has a pleasant year round climate, it's also just a two hour flight from the UK, which helps give the island an excellent year-round appeal. Ibiza offers a good range of package holidays and remains the nerve centre of electronic dance music, with the resorts of San Antonio and Playa d'en Bossa being the biggest party players.
However this beautiful Mediterranean island has a quieter side and provides well for couples looking for relaxing retreats, families looking for fun in the sun, and for those looking for something different, such as luxury spa weekends, yoga and wellness retreats, plus hiking and wildlife trailing.
Ibiza provides a good variation of holiday accommodation, from all inclusive hotels and luxury villas, through to self-catering and budget accommodation deals. Ibiza is home to 54 beautiful beaches, year-round sunshine, stunning scenery and is officially a UNESCO World Heritage Site, making it the perfect all-round package holiday destination.
Expand headings for further information:
Visitor information